Community Helpers is the theme of Spring 2017 Story Time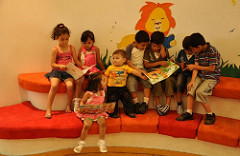 Story Time resumes Monday, April 3, 2017 with the theme "Community Helpers." We will be reading about people in our town who serve the community through their jobs. On April 3 we will be reading about police officers and Trooper White with the Oklahoma Highway Patrol will be our guest.
Story Time is from 11:30 a.m. til noon every Monday in April and May (excluding Memorial Day).
Other "Community Helpers" we will read about during this Story Time Session are Librarians, Nurses, Firefighters, Mothers, Fathers, Soldiers and how we can be "Community Helpers" through Earth Day projects.
Children of any age are encouraged to come and home schooled children are welcome as well, however the program and activities are geared for children ages 2-5. For more information about our Story Time please call the Library at 405-258-3204.