The Chandler Public Library was established in 1987, originally in the basement of old City Hall. We moved to our present location, at 11th and Manvel in 1992.
Services, Books & More
If you need help finding anything, don't hesitate to ask us for help!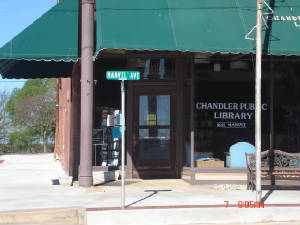 13,000+ books
Inter-library loan
CD's, DVD's
Computers
Wi-Fi and Internet
Copy and Fax
Community Room
eBooks
Thelma Clayton 1918-2007
In memorial for her dedicated service to the Chandler Public Library come and check out the Thelma Clayton memorial section established by the generous donation of Chandler High School class of 1959.
Thelma Clayton and Joan Butts Memorial Scholarships
Each year the Chandler Public Library Board gives the Thelma Clayton and Joan Butts Memorial Scholarships of $500 to a Chandler High School graduating senior who will continue their education in an institute of higher learning.